Triumph Tiger 800 Spares - Wheel Bearing Kits - All Balls Racing
SKU:25-1558
Regular price
M.R.P. ₹ 1,800.00 inclusive of all taxes
Regular price
Sale price
M.R.P. ₹ 1,800.00 inclusive of all taxes
Unit price
per
Sale
Contact Us to Order
Out of stock
Share
View full details
Triumph Tiger 800 Spares - Wheel Bearing Kits
Wheel Bearings Kit
All Balls Racing Wheel Bearings feature High-Speed bearings that are manufactured to ABEC 3 precision levels, triple lip rubber seals that keep the grease in and the water and dirt out all while utilising a Chevron SRI 2 grease that contains rust and oxidation inhibitors.
 Installation Inspection
Inner Spacer:
Check the bore to make certain it is clean and the axle easily passes through it. Check each end for wear and burrs. The edges must be square to seat properly against the new bearings. If the old bearings failed it is a good idea to confirm that the centre spacer has not been damaged. Make sure the inner space is the same length or slightly longer than the bearing stops in the hub or carrier.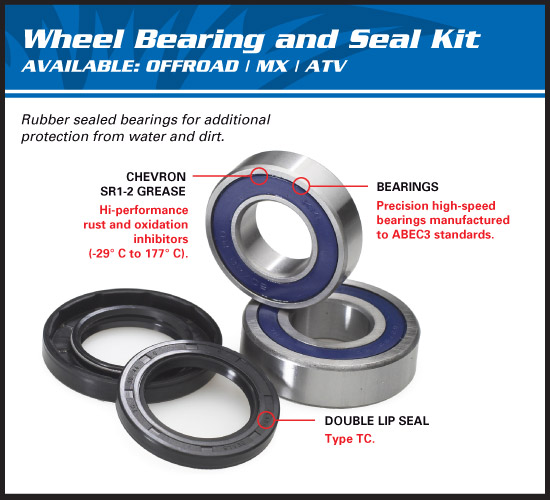 Wheel Hub:
Clean the hub, removing any dirt and corrosion. Make certain not to remove metal. This will adversely affect bearing fit.
Outer Wheel Spacers:
Clean the outer wheel spacers and inspect them for wear on either end as well as wear on the outer surface where it makes contact with the seal. If the spacers are excessively worn they should be replaced.
Bearing Installation
Note 1: Improper installation can cause bearing damage and dramatically reducing bearing life.
Note 2: Heating the wheel hub will cause the hub to expand slightly and will make bearing installation easier.
Country of Origin:
UNITED STATES OF AMERICA
Generic Name:
MOTORCYCLE PARTS AND ACCESSORIES
Quantity:
2N
Country of Import:
UNITED STATES OF AMERICA
Warranty:
30 DAYS FROM DATE OF INVOICE
Importer Address:
Plusgrow Merchantry Pvt Ltd (CIN U51909MH2018PTC318387) Bharti House, 43 Kachipura, New Ramdaspeth, Nagpur, MH 440010
Performance