Description

Other Details
Tank Bag - 9L - Lone Rider
Waterproof. Adventureproof.
The Lone Rider Tank Bag was designed to withstand the harsh weather conditions any adventure rider faces during long travels to remote areas. With a market-first German-made magnetic quick attach buckle harness system, modular, and ready to help you organize your smallest essentials, this Tank Bag will be your perfect companion in all situations.
Why get our Tank Bag?
It's fully dust- & waterproof


Sturdy magnetic quick attachment straps with German-made Fidlock Snap buckles.


Removable inner lining + divider


Practical 360-degree internal mesh pockets


Easy to carry; heavy-duty handle + can be converted to a backpack


Strap system interchangeable for use on a second bike with an extra

 

Second Bike Harness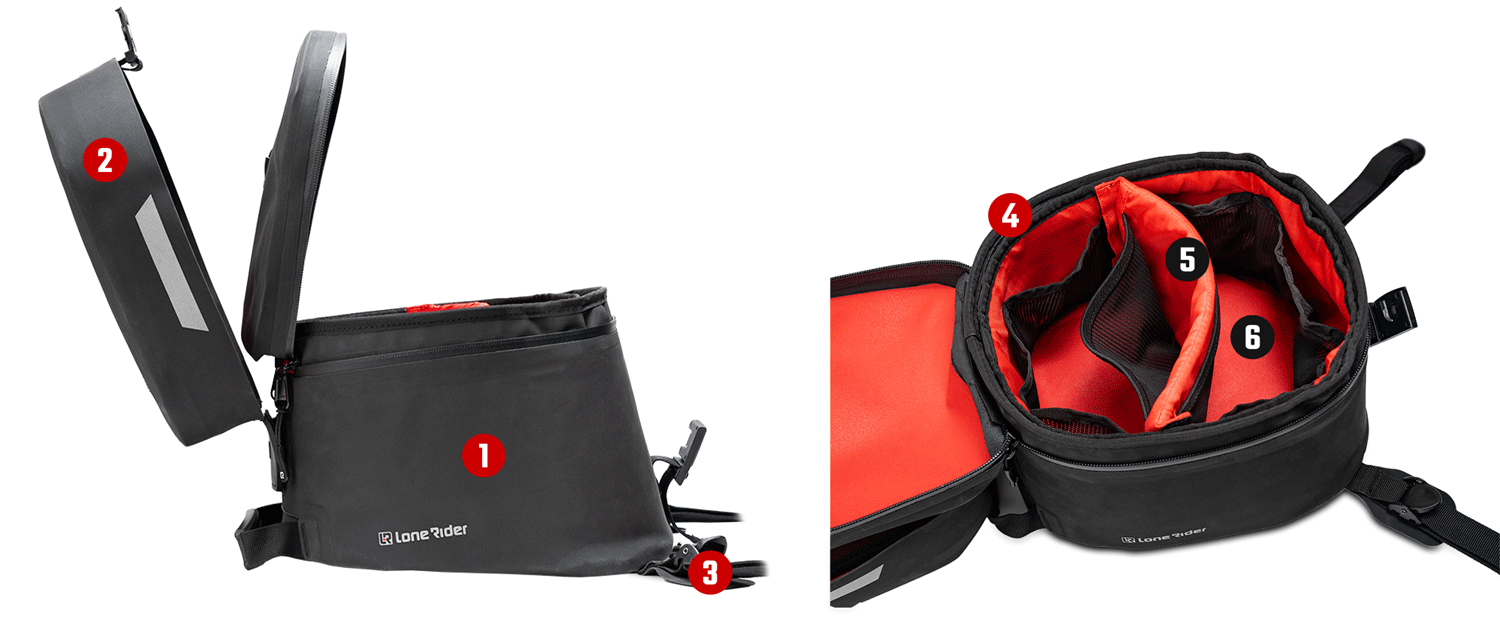 Key Features
1. 100% Waterproof & durable
The Lone Rider Tank Bag is 100% waterproof and does not need an additional rain cover to keep your belongings dry.
2. Dual Lid System
The outer lid fastens with velcro at the front and can be removed. The inner lid closes with a rainproof zipper.
3. Attachment system
It has a universal attachment system consisting of durable straps with magnetic buckles. It fastens to the top of the frame and down on each side and each strap can be adjusted individually. Magnetic buckles have no effect on card magnetic strips. 

Note: We are currently working on a Quick Release System that will be compatible and upgradable to this strapped design. Stay tuned for our product development emails to follow its progress.
4. Inner lining
The removable inner lining fastens with velcro and is equipped with 6 mesh pockets to help you organize your smaller belongings.
5. Divider
The removable divider slightly shapes like a "C" when inserted, enabling you to quickly and easily change the two compartments' size.
6. Flat bottom
To counteract your smallest things getting lost in the corners of your tank bag, ours have a flat bottom design which makes organizing even easier.
7. Only the best materials
Full Hypalon shell construction, YKK water-resistant zippers, German-made Fidlock buckles, 600D webbing, Reflective painted strips.
8. MOLLE attachment options
Add another bag, phone case or tools, the integrated lid MOLLE system makes it possible to add and adapt the Tank Bag perfectly to your style and needs.
Product spec's
Volume: 9L / 2.4gal
Weight: 1080g / 38.09oz
Length: 28cm / 11.02"
Width / Diameter: 23cm / 9.06"
Height: 20cm / 7.87"
Materials used
Shell: Hypalon, high frequency welded seams
Zippers: Water repellent YKK© 
Buckles: Magnetic Fidlock SNAP buckle.
Straps: 600D Polyester
What's included?
Each Tank Bag comes with:
Universal harness system
Removable inner lining + divider
Brand - Lone Rider
Generic name:- MOTORCYCLE PARTS AND ACCESSORIES
Net Quantity:- 1N
Country of Origin:- CHINA
Importer/Manufacture address:- A&R O2O Commerce Pvt Ltd. 2nd Floor, 86/47 8th Main, 13th Cross, Wilson Garden, Bangalore 560027 Contact Customer Service Manager (at above address) +91 844 844 9050 | customercare@bikenbiker.com
Warranty:- TWO YEARS FROM DATE OF INVOICE
BEST BEFORE: 10 YEARS FROM DATE OF IMPORT